Groups and
exclusive bookings
Share this special place with your group
Our stunning location set among ancient podocarp forest is the perfect place to share with friends, family and colleagues.
The Rata Room, opened in September 2023, provides a purpose-built space for groups, and can be used independently or in conjunction with the lodge.
The lodge is centred on a large multi-purpose room with an expansive deck, creating a flexible and relaxing space for your event. Sleeping up to 45 people in double and triple rooms, your guests will have a comfortable stay with us.
We pride ourselves in providing exceptional full board catering, and we have a fully licensed bar onsite. Talk to us about your requirements and we'll work with you to craft your ideal menu.
While we offer a remote, wilderness atmosphere, the lodge is accessible by road with on-site parking.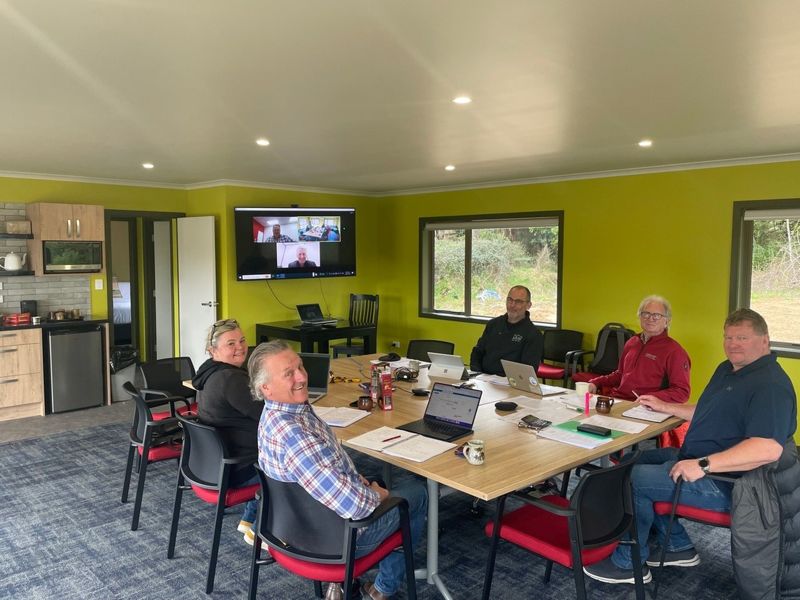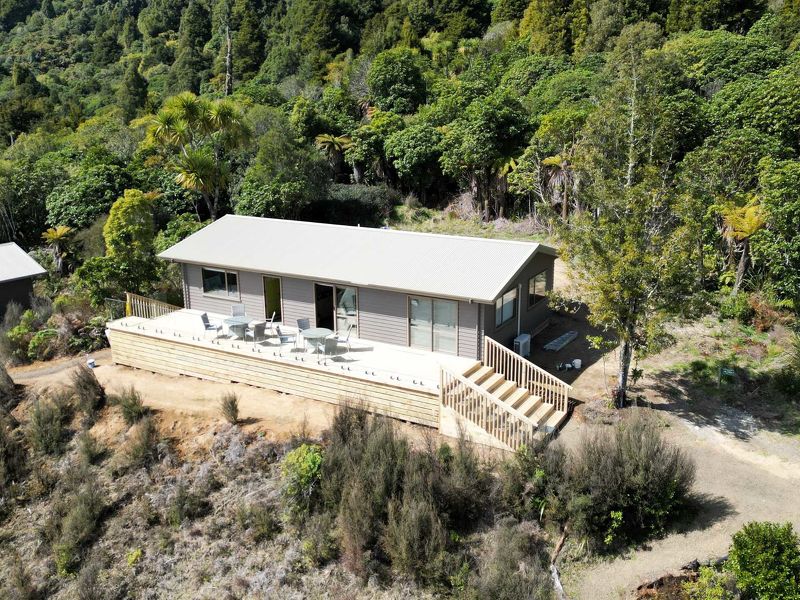 The Rata Room
The Rata Room is a purpose-built facility, perched behind the lodge, backing onto beautiful native forest and with a view across the valley.
The meeting room is 8m x 7m and comfortably seats 14 people with tables in boardroom layout, or larger groups seated conference style.
Corporate
Take your team off-grid and away from it all to focus on what's important
The Rata Room has wifi, 65-inch TV screen, projector, white board, flip charts, sound system and video conferencing capability, so you'll have everything you need to get the work done, and then a huge natural playground on the doorstep to enjoy.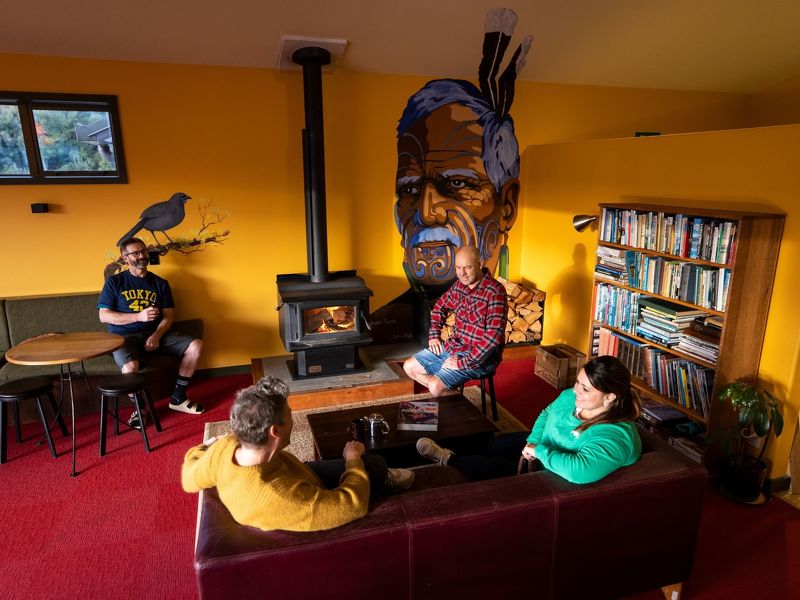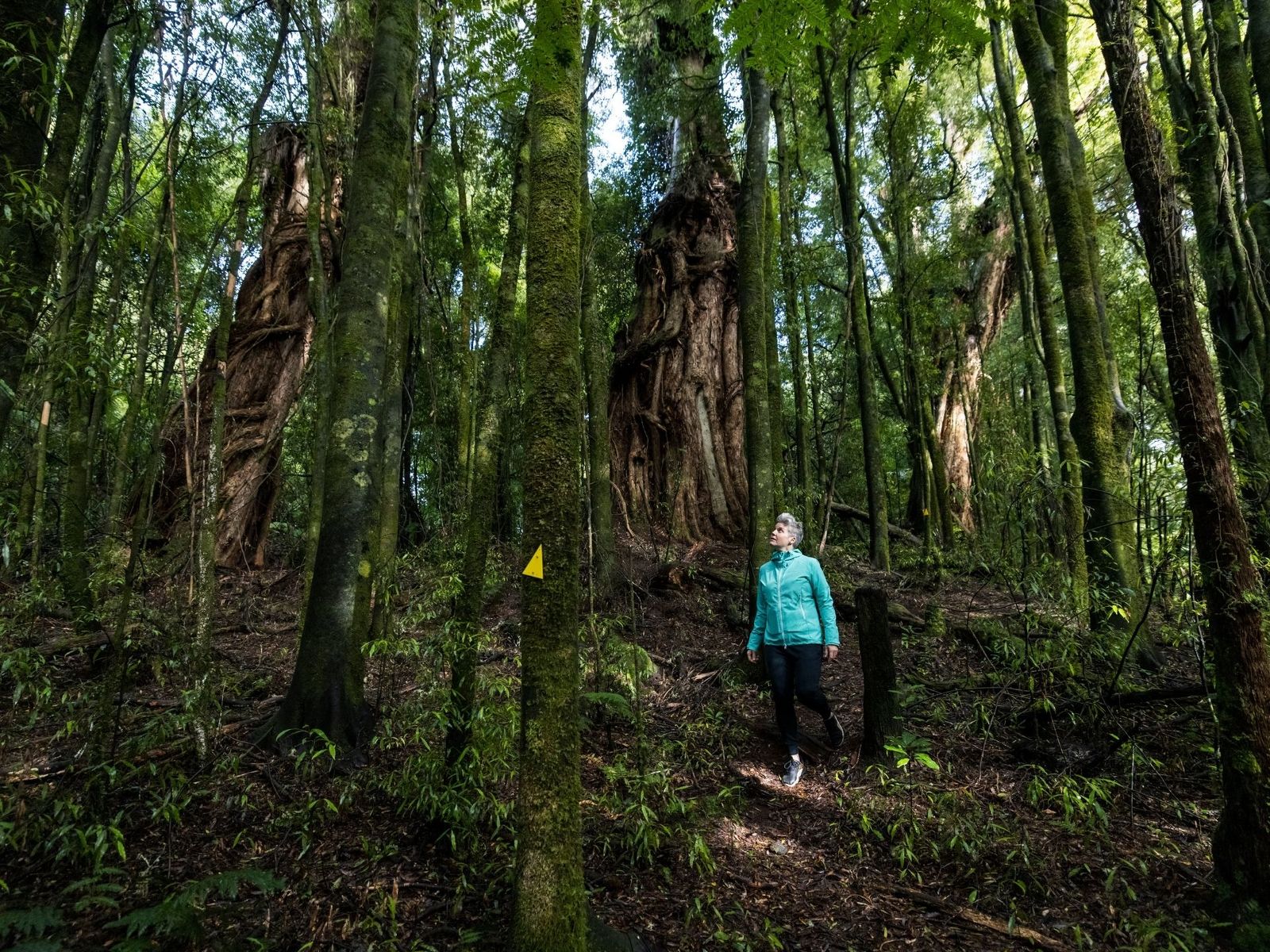 Retreats
A haven in the wilderness
The Timber Trail Lodge lends itself perfectly to a range of retreats. Activities and workshops can be set up in the Rata Room, the lodge main lounge, outside on the deck, or in the forest, and the surrounding environment provides unique opportunities to reconnect with nature.

Celebrations
Create special memories
What could be more special than celebrating an occasion at a forest lodge venue in the wilderness? Spend quality time with family and friends, reward your staff, thank your clients. We can work with you to make your event unforgettable with food, drink and entertainment.
Biking & hiking groups
Get a group together to experience the Timber Trail and leave the logistics to us.
We offer flexible packages including shuttles and luggage transfers, with accommodation and all meals included.

My family and I thoroughly enjoyed our stay at the Timber Trail Lodge. The lodge is completely off the grid while still being modern, comfortable and welcoming. The food was outstanding and the staff were friendly and helpful. I would highly recommend the lodge to those seeking nature and/or adventure getaways!
Natalie R
The whole team went out of their way to make us feel welcome. Great food and endless tea! Accommodation was comfortable. Worked seamlessly with the Timber Trail Shuttles before and after the trip. Thank you!
Lucy - Aug 2021
We were well looked after. The team at the lodge were friendly and knowledgeable. The food was AMAZING and a real highlight for our always-hungry teenage sons. Lovely accommodation. Very informative commentary via Rob and great service from the bike hire/shuttle team. Top it off with stunning scenery and loads of fascinating history. A must do for families
Nikki J - July 2021
Great weekend doing the Timber Trail, 2 nights at the Timber Trail Lodge worked perfectly. Fantastic local knowledge and stories from Rob in the shuttle, Kia Ora Rob! Accommodation is superb, clean and comfortable rooms, great food after a good days MTB riding and a beer or 2 from the bar. Locally owned and operated with great stewardship of local environment and land. Thoroughly recommended!
Rob d - May 2021
Fantastic rooms, beautiful place and very helpful and friendly staff and fantastic food, catered for dairy free with ease and care. Beautiful setting and loved the beanbag on the deck. Loved everything. Thanks team Timber Trail Lodge.
Wendy
Loved this place. Family of 6 adults had a ball. Everything is well organised. Rooms excellent, great food.and a pizza to keep you going after your first days riding. You do need to be fit enough to get there! Go for the full package. It's worth it.
Drivel K
Great value for money, awesome team looked after us so well. Totally recommend these guys you can not go wrong! Clean, new, licensed, comfortable, outstanding food, all amenities well serviced and no complaints from any of our guys.
Barry
Contact us
We're here to help. Let us know what you're thinking, when and how many people and we'll get planning.
The Timber Trail Lodge Experience