Right in the middle of nowhere
Timber Trail accommodation
The perfect place to relax, any time of year
The lodge is at the halfway point of the Timber Trail, nestled in the heart of Pureora Forest.
Spanning the entire length of the lodge is a large deck area, with outdoor seating and bean bags to soak in the secluded forest environment.
Inside, we have a large welcoming lounge with floor to ceiling windows, a cosy fireplace and comfortable seating, a selection of games and a books. There is WiFi in the lounge area, but we have no mobile phone reception.
Our lodge is fully serviced, we pride ourselves in providing exceptional home style food, and we also have a fully licensed bar.
Our story
The lodge was completed in 2017, a passion project for a group of local outdoor enthusiasts, who had a dream to become recognised as a fine example of sustainable, environmentally sensitive tourism.
Our lodge managers and team share that dream, and a passion to deliver a warm welcome, exceptional service and memorable experiences.

Accommodation
Your little piece of paradise
We have 20 rooms, sleeping up to 45 people. All of our rooms are double glazed, carpeted and have radiator heating, with the most comfortable beds on the trail!
Some rooms have access to the large shared deck area, with outdoor seating and beautiful forest views.
The ensuite rooms have a bathroom with shower, toilet and sink. Our standard rooms have shared bathrooms, with separate facilities for male and female.
We have double and triple rooms available, and room configuration options include generous king-sized beds and king singles.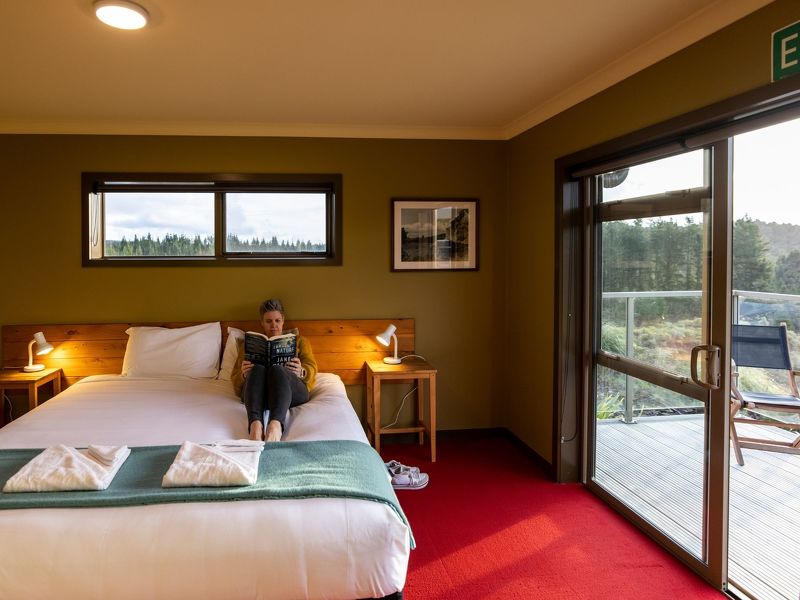 My family and I thoroughly enjoyed our stay at the Timber Trail Lodge. The lodge is completely off the grid while still being modern, comfortable and welcoming. The food was outstanding and the staff were friendly and helpful. I would highly recommend the lodge to those seeking nature and/or adventure getaways!
Natalie R
The whole team went out of their way to make us feel welcome. Great food and endless tea! Accommodation was comfortable. Worked seamlessly with the Timber Trail Shuttles before and after the trip. Thank you!
Lucy - Aug 2021
We were well looked after. The team at the lodge were friendly and knowledgeable. The food was AMAZING and a real highlight for our always-hungry teenage sons. Lovely accommodation. Very informative commentary via Rob and great service from the bike hire/shuttle team. Top it off with stunning scenery and loads of fascinating history. A must do for families
Nikki J - July 2021
Great weekend doing the Timber Trail, 2 nights at the Timber Trail Lodge worked perfectly. Fantastic local knowledge and stories from Rob in the shuttle, Kia Ora Rob! Accommodation is superb, clean and comfortable rooms, great food after a good days MTB riding and a beer or 2 from the bar. Locally owned and operated with great stewardship of local environment and land. Thoroughly recommended!
Rob d - May 2021
Fantastic rooms, beautiful place and very helpful and friendly staff and fantastic food, catered for dairy free with ease and care. Beautiful setting and loved the beanbag on the deck. Loved everything. Thanks team Timber Trail Lodge.
Wendy
Loved this place. Family of 6 adults had a ball. Everything is well organised. Rooms excellent, great food.and a pizza to keep you going after your first days riding. You do need to be fit enough to get there! Go for the full package. It's worth it.
Drivel K
Great value for money, awesome team looked after us so well. Totally recommend these guys you can not go wrong! Clean, new, licensed, comfortable, outstanding food, all amenities well serviced and no complaints from any of our guys.
Barry
Timber Trail biking packages
Our biking packages include the shuttles and bag transfers you need to make your Timber Trail Adventure easy, and you can book it all in one place. To book, first choose your room type and dates, and then you'll find the package add-ons under Services and Add-ons.
Great food to fuel your adventure
We serve good quality, honest meals, perfect to fuel your adventure in Pureora Forest.

All of your meals are included in the cost of your room.
Evening meals are served family or sharing style at large communal tables, an ideal opportunity to share stories with other like-minded guests. The menu changes daily, normally a main meat dish with a variety of vegetable sides or salads. Our desserts and cakes are freshly baked onsite.
Breakfast is served buffet-style, a hearty selection of cereals, home-made muesli, home-made yoghurt, fruit, toast, spreads, scrambled eggs and bacon, or hash browns and baked beans for our veggie guests. We also have locally roasted plunger coffee available.
We'll even provide a packed lunch to take with you on your adventure, a filled roll, wrap or sandwich, chocolate brownie, fruit and a muesli bar.
We have a fully licensed bar, with an eclectic mix of wine showcasing the best of New Zealand's wine growing regions. Our beer menu includes Central North Island craft beers.
Where possible we try to serve locally sourced fresh ingredients, supporting our local King Country producers. We can cater for a range of dietary requirements if requested at time of booking.

Sustainable by design
Surrounded by ancient podocarp forest, the lodge is an example of sustainable, environmentally sensitive tourism.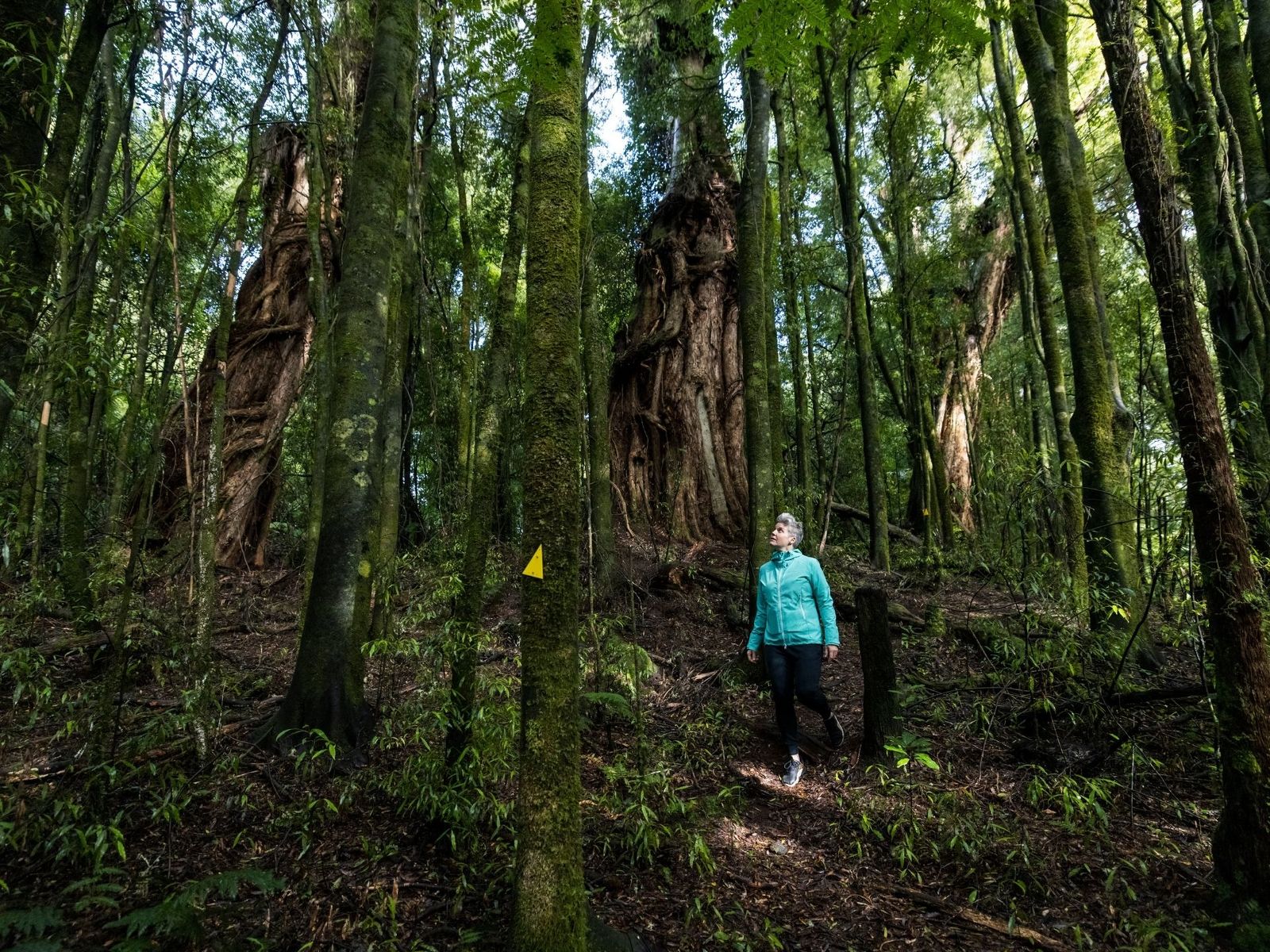 Around the lodge
An ancient forest on your doorstep
Our remote forest location is perfect to relax and enjoy nature, or get out and explore, even if you don't ride bikes.
There is a stunning 1 hour loop bush walk from the lodge doorstep, with giant rata trees and lively bird life.
The Maramataha Bridge, the longest on the Timber Trail is also walking distance from the lodge.

Lodge facilities
Everything you'll need for your ride
• Bike wash down area
• Bike storage (covered and uncovered)
• Bike service stand and tools, including hand pump
• Drying room and storage crates for wet and muddy shoes and gear. We do not provide laundry facilities.
• E-bike charging stations
• Filtered water refill station
• Small provisions store with sunscreen, snacks, bike tubes
• First aid kits, Personal Locator Beacon (PLB) for hire, and Epi-pen, AED on site
• We have a phone that can be used in emergencies.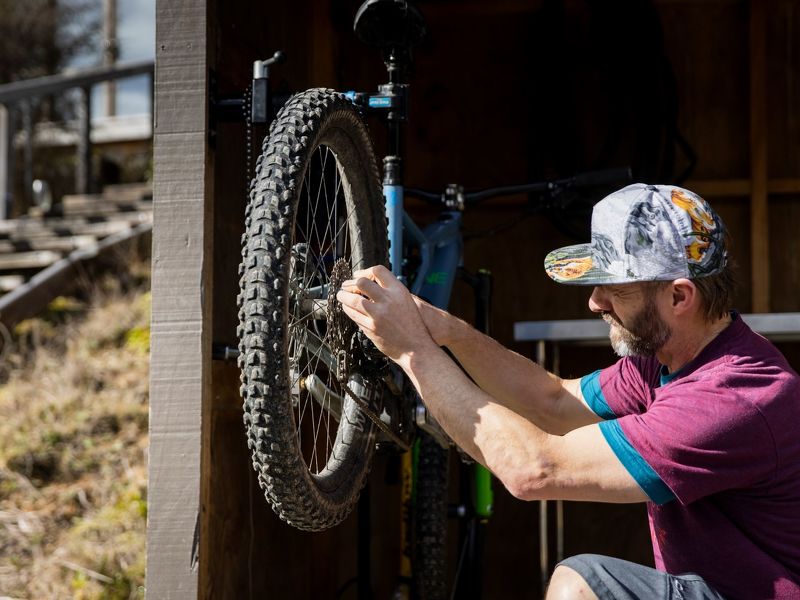 Groups & exclusive bookings
A special place to focus on what's important
Our remote location and stunning forest surroundings make the Timber Trail Lodge the perfect venue for a special occasion, retreat, business event, or simply a relaxing break away from everything to enjoy nature at its best.
The Timber Trail Lodge Experience