Southern Explorer Timber Trail
Biking Package
A taste of the Timber Trail
1 night at lodge and 1 day on southern section of the trail
From $295 per person*
The Southern Explorer provides a taste of the Timber Trail and the full lodge experience. An ideal starting point if you don't think the full trail is for you, or if you're a little tight on time.
* From price based on 2 sharing a double/twin standard room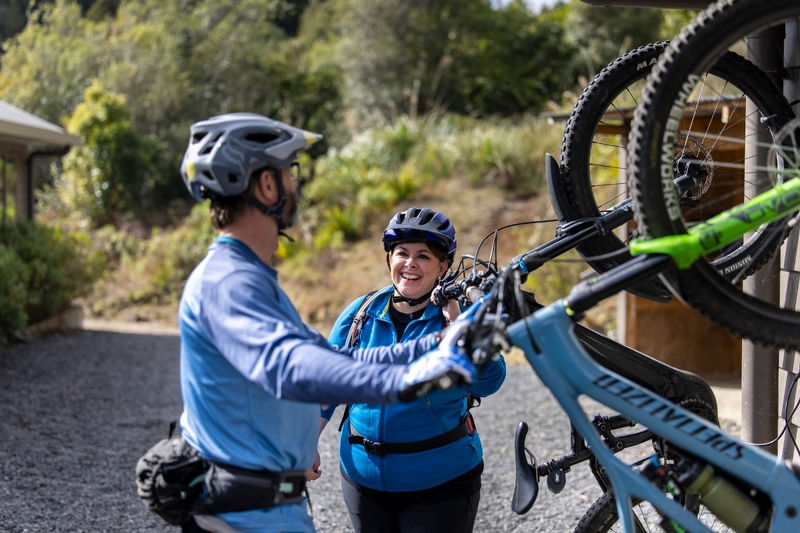 What's included?
Your accommodation cost includes:
A post-ride snack after your first day on the trail
An evening meal and dessert
Continental and cooked breakfast
Packed lunch for day two of your ride (you will need to bring lunch and snacks for day one)
One night package shuttle add-on includes:
Morning shuttle from Ongarue to the start of the Timber Trail at Pureora Village
Luggage transfer from to the Timber Trail Lodge
Luggage transfer from the Timber Trail Lodge to Ongarue
Secure parking for your vehicle at Ongarue
Southern Explorer package - Itinerary
Day 1
5pm Arrive at Timber Trail Shuttle and Bike Hire in Ongarue and load up your bikes. If you have hired a bike, we will fit it for you so please allow some extra time. Get Directions.
5.30pm Shuttle from Ongarue to Timber Trail Lodge with your bikes and luggage. Arrive, check in to your room and relax.
7pm Dinner is served in the communal lounge and dining area. Please let us know when you book if you have any special requirements. We are happy to accommodate but our remote location makes it difficult to cater for surprises!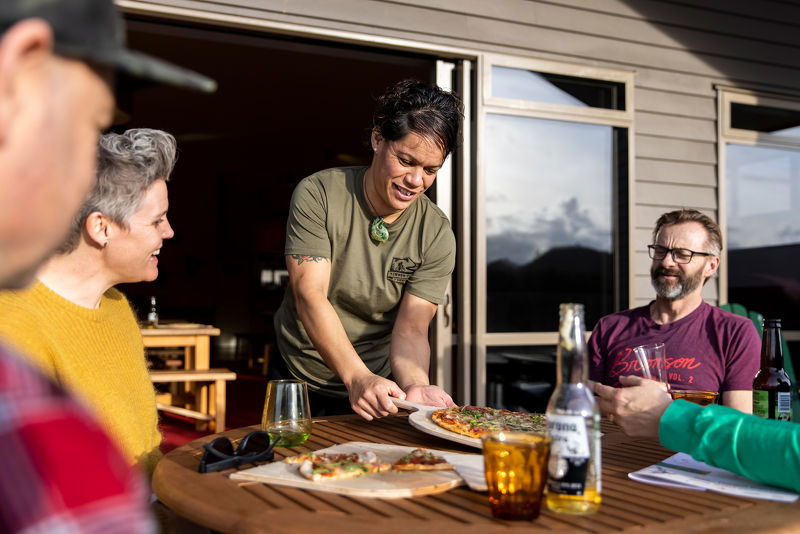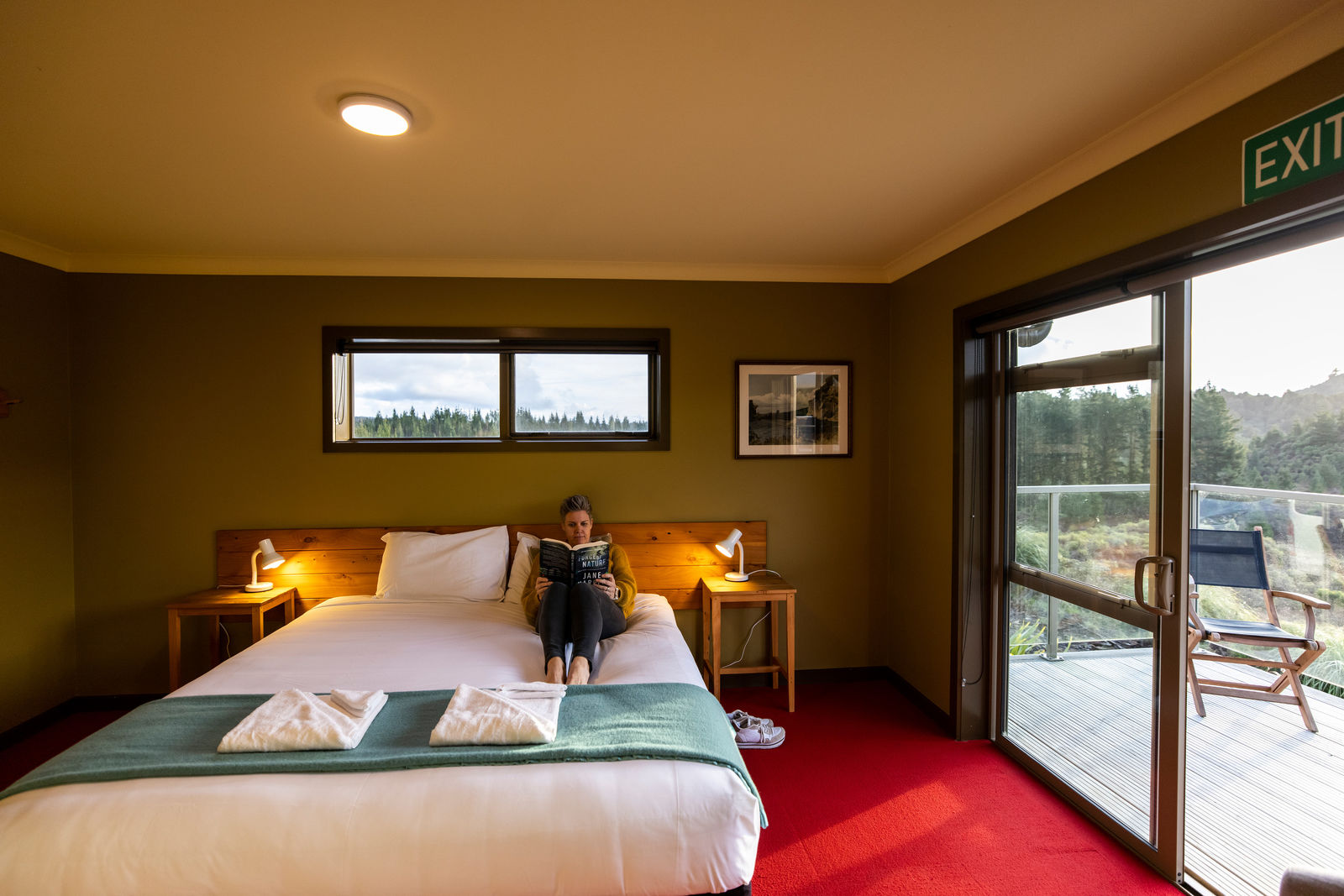 Day 2
A continental breakfast is available from XXam, with cooked breakfast available from XXam.
Check out of your room and leave your luggage with us to transfer back to your car at Ongarue.
You may like to explore the Rata loop walking track at the back of the lodge.
Depart in your own time to ride the Southern Section of the Timber Trail 42km. There is an optional shuttle available from the end of the trail at Bennett Road, or you can ride an extra couple of km along the road back to the shuttle base.
Please check in with us at the shuttle base so we know that you've returned safely and are off the trail before leaving.
To book: Select 1 night accommodation (price is per room) and the Southern Explorer Package Shuttle Add-on ($80 per person)
My family and I thoroughly enjoyed our stay at the Timber Trail Lodge. The lodge is completely off the grid while still being modern, comfortable and welcoming. The food was outstanding and the staff were friendly and helpful. I would highly recommend the lodge to those seeking nature and/or adventure getaways!
Natalie R
The whole team went out of their way to make us feel welcome. Great food and endless tea! Accommodation was comfortable. Worked seamlessly with the Timber Trail Shuttles before and after the trip. Thank you!
Lucy - Aug 2021
We were well looked after. The team at the lodge were friendly and knowledgeable. The food was AMAZING and a real highlight for our always-hungry teenage sons. Lovely accommodation. Very informative commentary via Rob and great service from the bike hire/shuttle team. Top it off with stunning scenery and loads of fascinating history. A must do for families
Nikki J - July 2021
Great weekend doing the Timber Trail, 2 nights at the Timber Trail Lodge worked perfectly. Fantastic local knowledge and stories from Rob in the shuttle, Kia Ora Rob! Accommodation is superb, clean and comfortable rooms, great food after a good days MTB riding and a beer or 2 from the bar. Locally owned and operated with great stewardship of local environment and land. Thoroughly recommended!
Rob d - May 2021
Fantastic rooms, beautiful place and very helpful and friendly staff and fantastic food, catered for dairy free with ease and care. Beautiful setting and loved the beanbag on the deck. Loved everything. Thanks team Timber Trail Lodge.
Wendy
Loved this place. Family of 6 adults had a ball. Everything is well organised. Rooms excellent, great food.and a pizza to keep you going after your first days riding. You do need to be fit enough to get there! Go for the full package. It's worth it.
Drivel K
Great value for money, awesome team looked after us so well. Totally recommend these guys you can not go wrong! Clean, new, licensed, comfortable, outstanding food, all amenities well serviced and no complaints from any of our guys.
Barry
Bike and ebike hire
If you don't have your own bike, you can hire one with your biking package.
We have selected our hire bikes specifically for the Timber Trail, so you'll have a great ride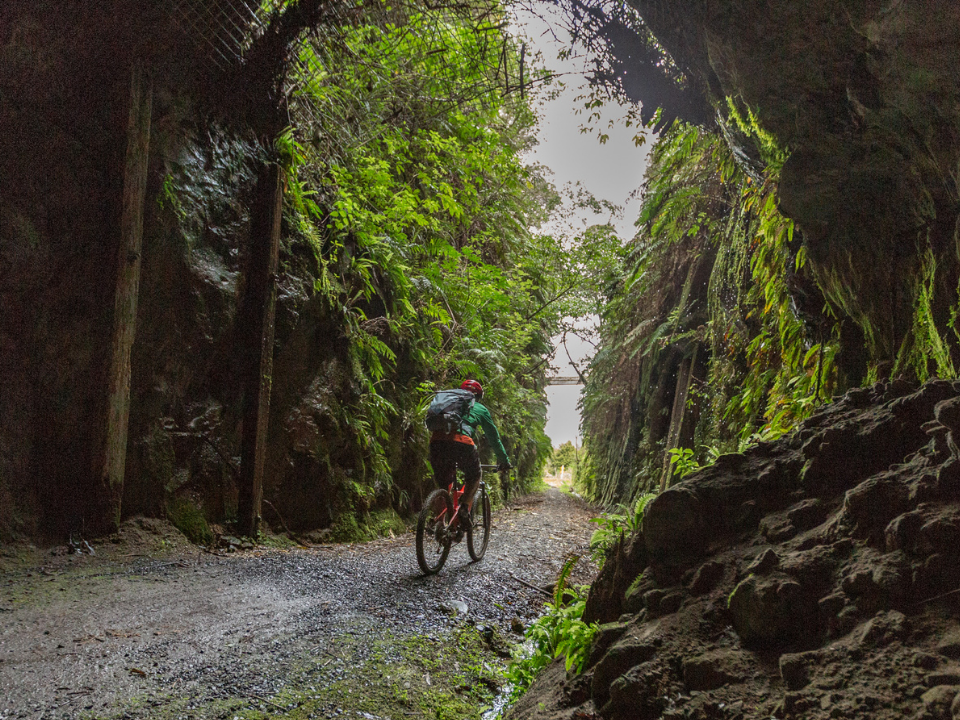 Two night package
Experience the whole Timber Trail
Our most popular package, the Two Night Package gives you more time to fully enjoy the Timber Trail.
Arriving at the lodge the evening before you start your ride ensures you start the trail well rested, and can make the most of the Pureora Forest and the exceptional service at the lodge.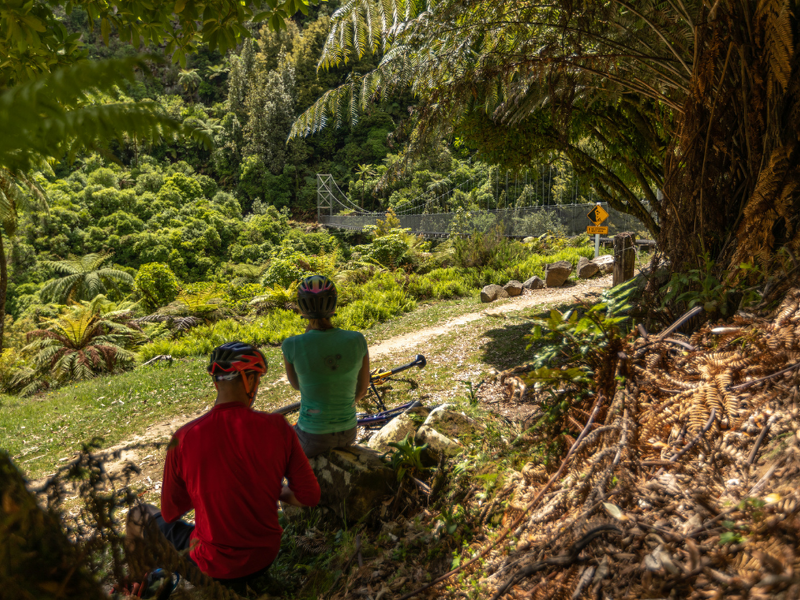 One Night Biking Package
A taste of the Timber Trail (45km)
1 night at lodge and 1 day on southern section of the trail
The Southern Explorer provides a taste of the Timber Trail and the full lodge experience. An ideal starting point if you don't think the full trail is for you, or if you're a little tight on time.
Timber Trail Biking Packages