Ready for adventure?
Everything you need to know before you go
Our biking packages make planning your Timber Trail adventure easy, so you can relax in the knowledge that we'll sort all the logistics for you. Please do let us know in advance if you have any special dietary requirements.
All you need to do now is make sure you and your bike are ready for the ride, and you have everything you need to have a safe and enjoyable experience.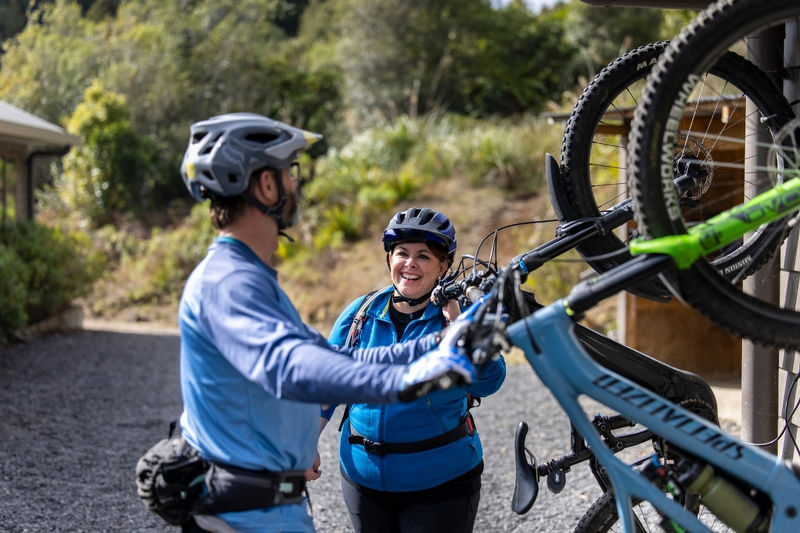 Getting Here
The Timber Trail Lodge is situated at Piropiro, the halfway point of the 85km Timber Trail.
It is accessible by road, but most of our guests are cycling the Timber Trail. Our biking packages start at the end of the trail at Ongarue.
My family and I thoroughly enjoyed our stay at the Timber Trail Lodge. The lodge is completely off the grid while still being modern, comfortable and welcoming. The food was outstanding and the staff were friendly and helpful. I would highly recommend the lodge to those seeking nature and/or adventure getaways!
Natalie R
The whole team went out of their way to make us feel welcome. Great food and endless tea! Accommodation was comfortable. Worked seamlessly with the Timber Trail Shuttles before and after the trip. Thank you!
Lucy - Aug 2021
We were well looked after. The team at the lodge were friendly and knowledgeable. The food was AMAZING and a real highlight for our always-hungry teenage sons. Lovely accommodation. Very informative commentary via Rob and great service from the bike hire/shuttle team. Top it off with stunning scenery and loads of fascinating history. A must do for families
Nikki J - July 2021
Great weekend doing the Timber Trail, 2 nights at the Timber Trail Lodge worked perfectly. Fantastic local knowledge and stories from Rob in the shuttle, Kia Ora Rob! Accommodation is superb, clean and comfortable rooms, great food after a good days MTB riding and a beer or 2 from the bar. Locally owned and operated with great stewardship of local environment and land. Thoroughly recommended!
Rob d - May 2021
Fantastic rooms, beautiful place and very helpful and friendly staff and fantastic food, catered for dairy free with ease and care. Beautiful setting and loved the beanbag on the deck. Loved everything. Thanks team Timber Trail Lodge.
Wendy
Loved this place. Family of 6 adults had a ball. Everything is well organised. Rooms excellent, great food.and a pizza to keep you going after your first days riding. You do need to be fit enough to get there! Go for the full package. It's worth it.
Drivel K
Great value for money, awesome team looked after us so well. Totally recommend these guys you can not go wrong! Clean, new, licensed, comfortable, outstanding food, all amenities well serviced and no complaints from any of our guys.
Barry
Safety on the trail
The Timber Trail passes through a remote wilderness area. Emergency access is difficult in some places.
Mobile reception is close to non-existent along the trail, we advise you not to rely on this and strongly recommend you carry a Personal Locator Beacon.
Our lodge management staff are trained in basic first aid and can assist with incidents at or near the lodge, however it is important you know what to do in an emergency if you are not near the lodge.
You need to be prepared for adverse weather and emergencies, see our packing list below for the essentials. Make sure you have enough warm clothing, food and water in case you need to stop. Carry a bike tools and spares, and know how to use them, and be prepared to assist other riders.
Allow plenty of time to ride the trail. Most groups take 5-6 hours to ride the first stage from Pureora to Piropiro. The second leg usually takes slightly less time. Allow extra time for mishaps and breakdowns.
Please note our policy is to alert Police Search and Rescue if guests have not arrived by dark.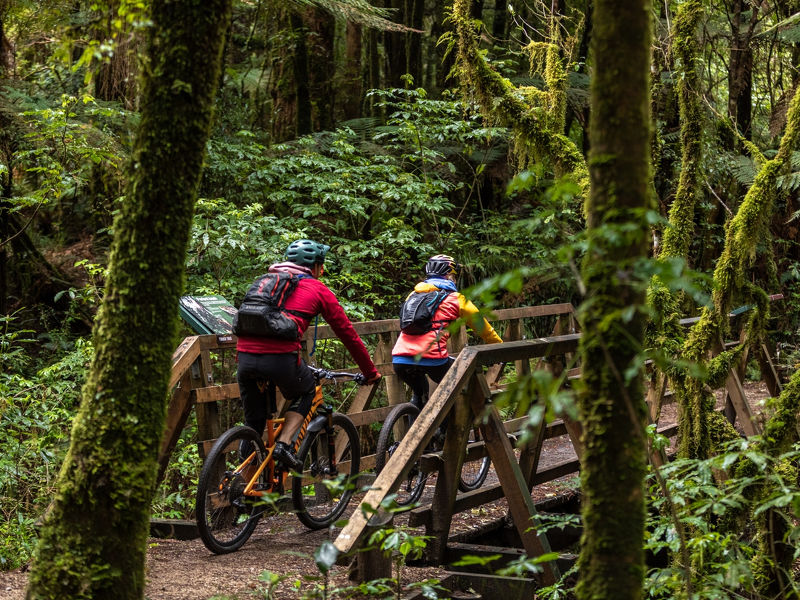 Get ready to ride
The more prepared you are, the more you will enjoy the ride.
Get out and ride! You need to be ready for some long days in the saddle. Each day on the trail is 40km plus, and you can expect to be riding 4-6 hours each day.
Brush up on your skills. Make sure you're comfortable and in control on grade 3 trails.
Make sure your bike is up to the task - It's a great idea to get your bike serviced to avoid troubles on the trail. Your local bike shop can help you stock up on spares too.
What to bring
You need to be prepared for conditions to change throughout your ride. Ensure you are prepared for your ride to take longer than expected, and to deal with emergencies along the way.
For the ride:
Comfortable riding clothing (padded shorts are a great), helmet and cycling shoes or trainers
Waterproof and windproof jacket, suitable for riding in
Additional warm clothing (either wool or polypropylene), including hat, gloves, long sleeved jumper and tights
Plenty of drinking water for the day and some additional snacks (you'll also need lunch for day 1 if you book the 1 night package)
First aid kit and personal medication
Emergency thermal blanket
A Personal Locator Beacon (PLB). We strongly recommend you carry at least one per group. These are available to hire if you don't own one.
Bike repair gear, including pump, spare tube, puncture repair kit & multitool
Torch or headlamp
Sunscreen, insect repellent
Camera
For the lodge:
Extra clothing and comfortable shoes/slippers for in and around the lodge
Walking shoes for the Rata loop walking trail
Wash kit (we have the basics available in the bathrooms, towels are provided, and hair dryer is available at reception)
Phone charger
Spare riding clothes for your second day (we don't have laundry facilities at the lodge)
E-bike charger
You may like to pack a lock for your bike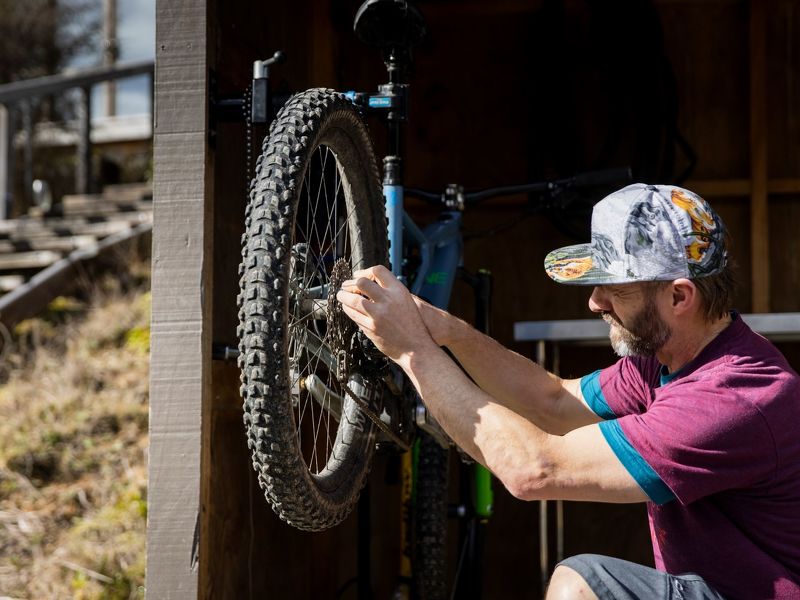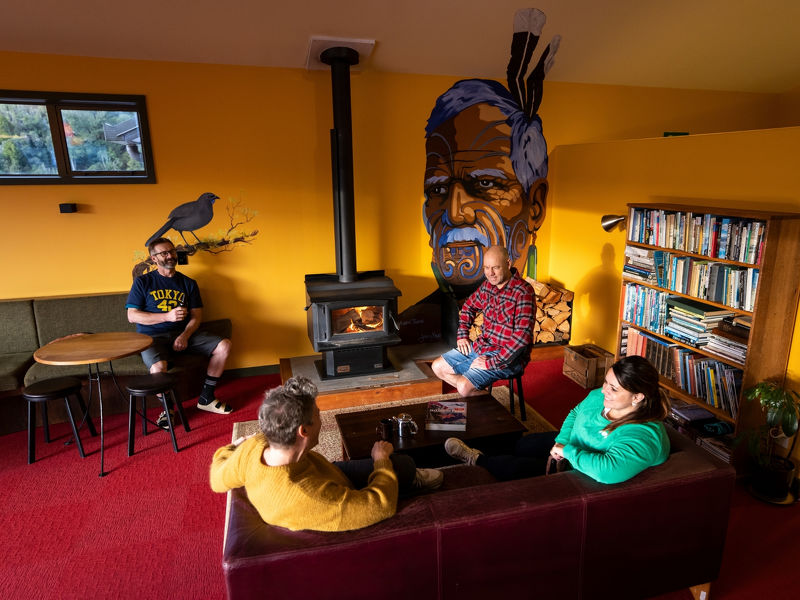 The Timber Trail Lodge Experience