Understanding our package pricing
Package Prices
Prices valid 1 October 2021 - 30 September 2022
Our biking packages include accommodation, all meals, shuttles and luggage transfers.
We have a choice of room types, and these are priced per room. Our room rates include all of your meals during your stay.
Our shuttle pricing includes one piece of luggage per person.
You can book your whole biking package online. First select your preferred room type(s) on your selected dates and let us know how many people will be in each room, and bed configuration.
Next in Services and Add-ons, you can add your shuttle package. You can also hire bikes, and Personal Locator Beacons here.

Room Rates
Our rates are per room, and include all your meals
Standard Double/Twin - $390 per night for 2 people
Ensuite Double/Twin - $490 per night for 2 people
Standard Triple - $585 per night for 3 people
Ensuite Triple - $735 per night for 3 people
Single occupancy
Standard Double - $315 for 1 person
Ensuite Double - $415 for 1 person
Shuttle Prices
Shuttles are priced per person and Includes 1 piece of luggage
2 Night Package Shuttles - $140 per person
1 Night Package & Southern Explorer Shuttle - $70 per person
Book your Timber Trail adventure
We make it easy
Journey through ancient podocarp forest on one of New Zealand's best wilderness rides.
The 84km trail follows historic logging tramways and tells the stories of the conservation success that led to this special place being protected for our native birds and wildlife to thrive.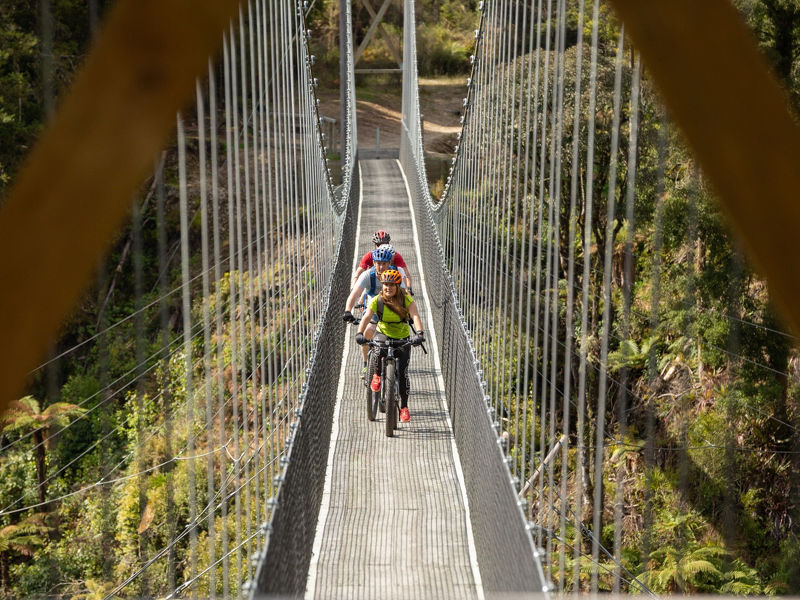 My family and I thoroughly enjoyed our stay at the Timber Trail Lodge. The lodge is completely off the grid while still being modern, comfortable and welcoming. The food was outstanding and the staff were friendly and helpful. I would highly recommend the lodge to those seeking nature and/or adventure getaways!
Natalie R
The whole team went out of their way to make us feel welcome. Great food and endless tea! Accommodation was comfortable. Worked seamlessly with the Timber Trail Shuttles before and after the trip. Thank you!
Lucy - Aug 2021
We were well looked after. The team at the lodge were friendly and knowledgeable. The food was AMAZING and a real highlight for our always-hungry teenage sons. Lovely accommodation. Very informative commentary via Rob and great service from the bike hire/shuttle team. Top it off with stunning scenery and loads of fascinating history. A must do for families
Nikki J - July 2021
Great weekend doing the Timber Trail, 2 nights at the Timber Trail Lodge worked perfectly. Fantastic local knowledge and stories from Rob in the shuttle, Kia Ora Rob! Accommodation is superb, clean and comfortable rooms, great food after a good days MTB riding and a beer or 2 from the bar. Locally owned and operated with great stewardship of local environment and land. Thoroughly recommended!
Rob d - May 2021
Fantastic rooms, beautiful place and very helpful and friendly staff and fantastic food, catered for dairy free with ease and care. Beautiful setting and loved the beanbag on the deck. Loved everything. Thanks team Timber Trail Lodge.
Wendy
Loved this place. Family of 6 adults had a ball. Everything is well organised. Rooms excellent, great food.and a pizza to keep you going after your first days riding. You do need to be fit enough to get there! Go for the full package. It's worth it.
Drivel K
Great value for money, awesome team looked after us so well. Totally recommend these guys you can not go wrong! Clean, new, licensed, comfortable, outstanding food, all amenities well serviced and no complaints from any of our guys.
Barry
The Timber Trail Lodge Experience