Alert Level 3 Boundary – Access to the Timber Trail
Updated 7 October 2021
The Timber Trail starts in Waitomo District and finishes in the Ruapehu District.
Waitomo District is now at Level 3. Timber Trail Lodge and the Timber Trail Shuttle & Bike Hire base are in Ruapehu District which is still at Alert Level 2.
The lodge will remain open to accommodate guests coming from Level 2 areas, but cannot have any visitors from Level 3.
The boundary cuts the trail on the Pureora side of the lodge, so there is no access to the start of the trail at Pureora Village, and no access to the lodge via Maniaiti / Benneydale.
People coming from Level 2 areas can still come to the lodge, bike up the trail to the boundary, and can bike all of the southern section to Ongarue.
We are in the process of contacting people who currently have bookings over the next 5 days to clarify their situation.
Any people with bookings who cannot come due to Covid restrictions will be able to transfer to a later date.
What to expect at Alert Level 2
Keeping you safe
We're doing things a bit differently at Alert Level 2, but it won't impact on your Timber Trail experience.
Our staff are wearing masks, and we ask that you do so at times when you cannot maintain physical distance from people you don't know, like on the shuttles, when checking in, and in the corridors.
We're cooking up the same incredible food, but serving you in your bubbles and at your table.
We have limited numbers in the lodge and no shared bathroom facilities. The standard room wing accommodates just 2 bubbles, with a bathroom each.
Limiting our capacity means there's more space to spread out in the lodge, and you can keep some distance between your bubble and people you don't know.
Some shared facilities will not be available, like the book library and board games, so you may wish to bring your own.
We pride ourselves on providing a clean lodge year round, but we're be adding in some additional cleaning to our schedules.
In return we ask that you don't come to the lodge is you're feeling unwell, keep track of where you've been, keep your distance from those not in your bubble, and wear a mask when that gets a bit tricky.

Flexible Booking Options
Book with confidence
We understand it's hard to plan anything at the moment, and we're being flexible on our cancellation policy to give you the confidence to plan your Timber Trail adventure with us.
If you've got a booking and Covid-19 gets in the way of your plans, we'd love to be able to move your booking to another date, but if that doesn't work for you, we'll happily refund your payment.
We'd appreciate as much notice as possible (particularly if we can re-sell your room), but we understand things change pretty quickly and that's not always possible.
So whatever Alert Level you're currently at, you can plan something to look forward to, without worrying about losing your money.

Contact us
Keeping you safe
If you'd like to discuss or make changes to a current booking, please contact us by phone, email or complete the form below.
Phone: 0800 885 6343
International: +64 21 562 001
Email: [email protected]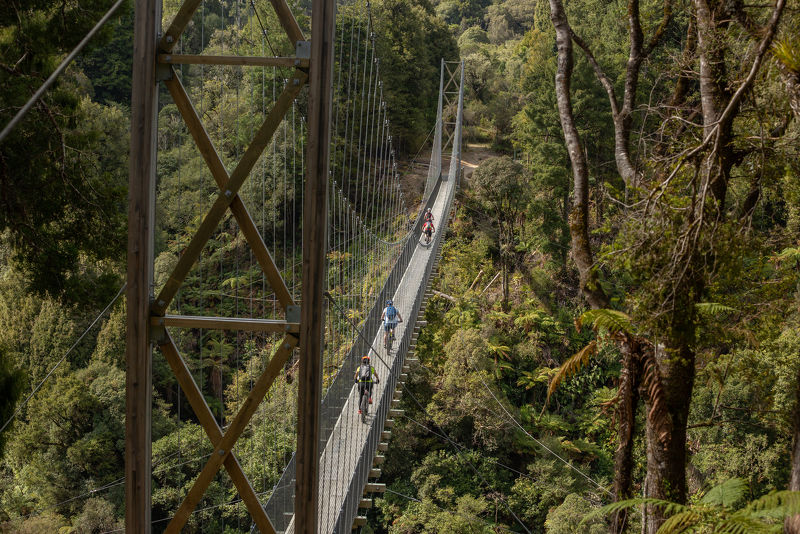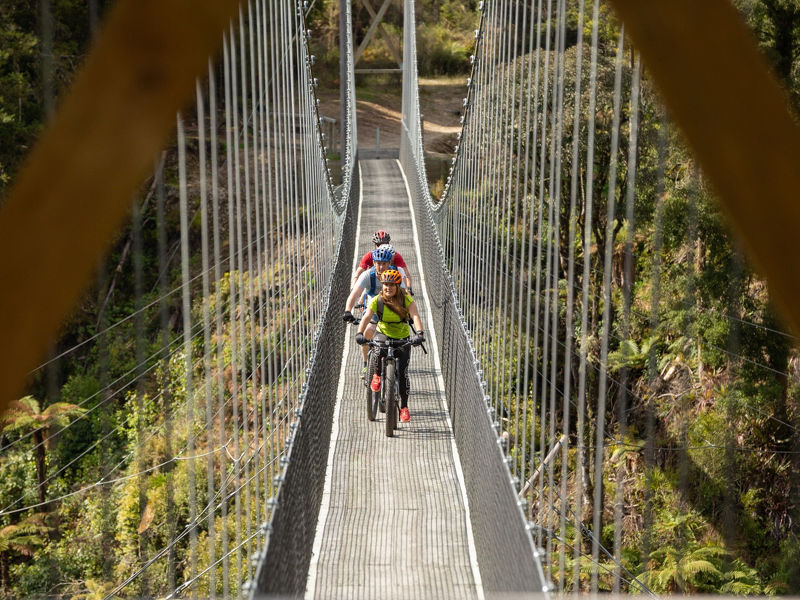 My family and I thoroughly enjoyed our stay at the Timber Trail Lodge. The lodge is completely off the grid while still being modern, comfortable and welcoming. The food was outstanding and the staff were friendly and helpful. I would highly recommend the lodge to those seeking nature and/or adventure getaways!
Natalie R
The whole team went out of their way to make us feel welcome. Great food and endless tea! Accommodation was comfortable. Worked seamlessly with the Timber Trail Shuttles before and after the trip. Thank you!
Lucy - Aug 2021
We were well looked after. The team at the lodge were friendly and knowledgeable. The food was AMAZING and a real highlight for our always-hungry teenage sons. Lovely accommodation. Very informative commentary via Rob and great service from the bike hire/shuttle team. Top it off with stunning scenery and loads of fascinating history. A must do for families
Nikki J - July 2021
Great weekend doing the Timber Trail, 2 nights at the Timber Trail Lodge worked perfectly. Fantastic local knowledge and stories from Rob in the shuttle, Kia Ora Rob! Accommodation is superb, clean and comfortable rooms, great food after a good days MTB riding and a beer or 2 from the bar. Locally owned and operated with great stewardship of local environment and land. Thoroughly recommended!
Rob d - May 2021
Fantastic rooms, beautiful place and very helpful and friendly staff and fantastic food, catered for dairy free with ease and care. Beautiful setting and loved the beanbag on the deck. Loved everything. Thanks team Timber Trail Lodge.
Wendy
Loved this place. Family of 6 adults had a ball. Everything is well organised. Rooms excellent, great food.and a pizza to keep you going after your first days riding. You do need to be fit enough to get there! Go for the full package. It's worth it.
Drivel K
Great value for money, awesome team looked after us so well. Totally recommend these guys you can not go wrong! Clean, new, licensed, comfortable, outstanding food, all amenities well serviced and no complaints from any of our guys.
Barry
The Timber Trail Lodge Experience